This week i'm linking up with Carissa for another miscellany monday.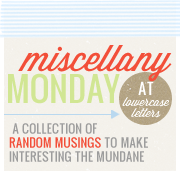 I really dislike Monday because it is the start of the week and I just know it will take forever to get to the end. Plus, traffic is always worse on Mondays. I guess everyone is running late and is in a hurry. Seriously, every other day of the week I can get to school in 25 minutes and on Mondays it always takes longer. For instance this morning I left with 40 minutes before my class starts and I was 10 minutes late. I wasn't going to walk into the class late because I knew there would be no seats on the outside so I would have to "excuse me" all the way to the middle of the row to find a seat. Not to mention that the door is the in front of the classroom so everyone would be staring at me the whole time I found a seat. So, today I decided to sit outside the class and attempt to listen to the teacher. She luckily doesn't take attendance so I didn't receive an absence.
Yesterday was the Superbowl and that means lots of food and family, for me anyways. I went to my parents house where they cooked a feast for the four of us. Seriously we could have fed 8 or more, but they love to fix way more food than needed. We had 3 dips, spinach and artichoke, guacamole, and an onion dip that was SO good. Then we had jalapeno poppers, chicken wings and ribs. It was all really good but I was stuffed.
Spinach and Artichoke Dip
Onion Dip. (It was the best!)
My Dad's famous Guacamole!
Jalapeno Poppers made with cream cheese, cheddar cheese, mozzarella cheese, bacon, salt and chili powder. Topped with some Panko bread crumbs and baked in the oven.
Chicken wings (sweet and sour and hot) and Ribs at the top. They were Asian flavored with some marinade my dad made.
Well one of my favorite things about the Superbowl are the commercials. My favorite one was the Bridgestone tire commercial. I thought it was so cute and funny.
Also I kinda felt bad for Christina Aguilera when she messed up the National Anthem because I know I would be way nervous too. Singing in front of people is hard especially a song like that which everyone knows. My mom and I were watching it together and we just looked at each other at the same time when she messed up. It was so funny. But I heard her sound check this morning on the radio and she messed up way worse then.
Well sorry this wasn't more interesting but I'm off to do some homework and catch up on my blogs.
Thanks for reading!