Hey!!
I
LOVE
spring, I think it is my favorite season in Texas because it's not too hot. The summer would be my favorite except that most days it is over 95 degrees and that is way too hot. This Top 2 Tuesday is exciting because I love to shop, but usually hate shopping by myself because my sister always picks out much cuter clothes for me. I seem to always be drawn to the same things and then buy them in multiple colors. I mean hey, if it looks good then why not have it in more than one color. Right??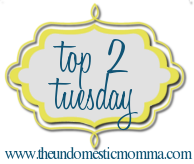 So when searching for spring looks I wanted to find stuff that is out of my comfort zone. Here we go!
1. I am really liking one shoulder dresses and hope they are still in style!
I also like this one but I am unsure about the sleeve design. What do you think?
2. I like this plain dress and I think it would be so cute for a casual day at school or shopping.
I also like this dress and I think it would be perfect for my trip to California in March! I'll post about that tomorrow!!!
The only problem is that its $89.99. :( We will see...
VIA
I just noticed the colors are all the same! HAHA! I guess I didn't shy too far away from my comfort zone. All these looks are from
modcloth.com
and I have never actually ordered anything from there. Have any of you? I wondered how well the clothes hold up when washing them. Let me know your opinions!
Thanks for visiting! Come back to visit again soon and let me know you were here! :)
Love,
Carmen