Well, I thought since I never have linked up to Miscellany Monday then I would start today since I have random things to talk about.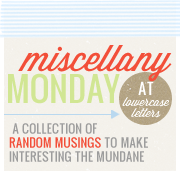 1. First off we had SNOW yesterday and it is still on the ground today! I don't have any snow clothes because they are all at my parents so I just got to enjoy the beauty of it and take pictures. Plus, Ryan was at work so I would have to play all by myself, which would be no fun! Here are some pictures from the day.
The house in the snow!
My footprints on the sidewalk. :)
Cali's prints
This morning the icicles on the house!
Cali LOVED the snow. But, since she just got fixed I only let her play a little bit and on the leash.
She was so excited she got the leash wrapped around her legs. HAHA!
Playing once it got deeper.
Being a sweet girl.
2. Secondly, I've never shared this before on the blog but my sister Lori is pregnant and she just found out she is having a
BOY!
She is about 19 weeks I think and she found out today at her sonogram. They are so excited and were hoping for a boy because it is their first child. Here she is at 15 weeks but when you see her in person she doesn't look that big.
SO CUTE!
And here is a picture of Lori and Jon at Christmas!
I am so excited for them, and I will finally be a real AUNT!
3. Belle likes sitting in the dryer when it is still hot. She is adorable.
4. And I will leave you with this beautiful picture! :)
Thanks for visiting and come back soon!
Love,
Carmen