Hey girls!
I'm linking up with Taylor for Top Two Tuesday again this week. We are sharing our dream rooms and I love to think about what I would love to have in my home!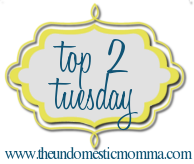 I love this one. I have always wanted an outdoor gazebo and an outdoor fireplace. The comfy furniture seems very inviting too. I would also love a really nice grill so I could cook yummy steaks!
This one is pretty because of the pool. I don't really want a pool because they are hard work and there are two that I can go to without putting in the effort. haha.
I love the grill and the waterfalls on the wall. It is very contemporary and I love it.
I hope to make an outdoor living space in my backyard. I obviously can't afford to make a very luxurious one like these, but I would love to get a patio set and we already have a fire pit.
I love the creamy yellow and the four poster bed. I have always wanted a bed like this. The comfy couch makes the room even more inviting.
I love the brick wall behind the bed!
I love sheet around the bed.
Our master bedroom has IKEA furniture right now because I bought it right out of high school and couldn't afford anything else, but it is the room we worry least about. We know that when we have guests over we can shut the door and forget about it. Hopefully soon we will be able to afford to get a nice bedroom set!
Thanks for reading and come back tomorrow for more pictures form my vacation!